EVENTS
Movement Festival Reveals 2019 Lineup Teaser
The long-awaited Movement Music Festival is finally approaching for its 19th annual show. Taking place on Memorial Day weekend, May 25-27 inside Detroit's legendary Hart Plaza.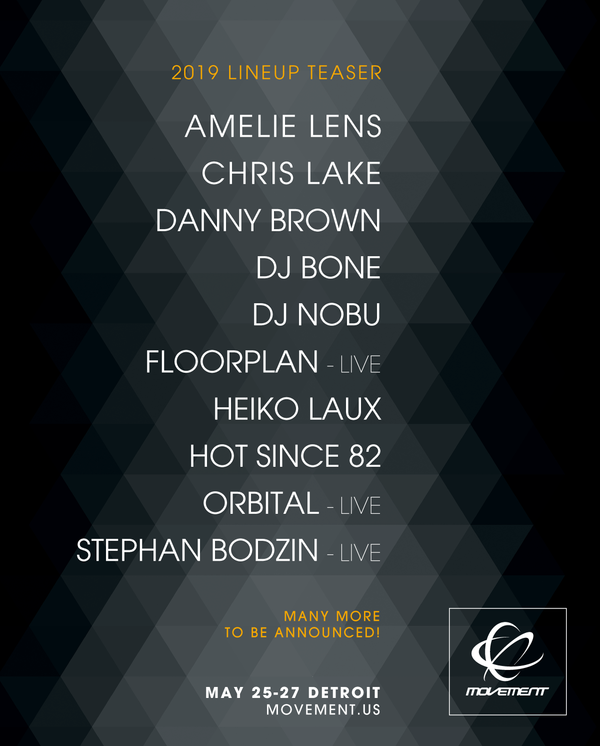 Provided by "Movement"
The lineup teaser features UK dance music pioneers Orbital. Their first live appearance in Detroit in almost 20 years. This also marks the duo's first-ever performance at Movement.
About Orbital:
Orbital has laid the groundwork for today's live shows by performing anthems such as "Halcyon," "Belfast," and "Chime" on a cadre of studio gear in epic fashion. There is no better platform to expose a new generation of electronic music fans to than at Movement.
Other Performers:
Today's lineup reveals also features Detroit's very own Danny Brown, DJ Bone, as well as Detroit Techno legend Robert Hood. British House sensation Hot Since 82 will also take the stage.
Other notable first-time Movement performances include Amelie Lens, Chris Lake, DJ Nobu, Heiko Laux, and Stephan Bodzin. More names will be announced in early 2019 on Movement's official website and social media channels.
The 10 Performances Announced Today, In Alphabetical Order:
Amelie Lens
Chris Lake
Danny Brown
DJ Bone
DJ Nobu
Floorplan – Live
Heiko Laux
Hot Since 82
Orbital- Live
Stephan Bodzin – Live
About Movement:
Since its inception, Movement has been deeply dedicated to bringing a completely original experience to Detroit, the place where it all began for Techno music. Festival organizers are hyper-focused on showcasing authentic talent for the event, which in turn provides an experience that is purely about the music.
Movement fans will find themselves immersed with the best of the best, seasoned vets and up and comers within Techno and other dance music genres.
Movement 2019 3-Day Weekend and Daily Passes for both GA and VIP are now available for purchase at www.movement.us. Payment Plan options are also available.
Each year on Memorial Day weekend, thousands of people from across the globe gather in the birthplace of Techno to celebrate the heritage of Detroit and its musical influence over countless generations, new and old.
Movement Music Festival is one of the longest-running dance music events in the world, committed to showcasing authentic electronic music and providing an experience unlike any other. The festival takes place in Hart Plaza – Detroit's legendary riverfront destination.
See what Other Have To Say:
"The annual Memorial Day weekend marathon is a necessary pilgrimage for fans of Detroit music and those looking to get a grip on the bubbling US underground." Billboard
"Movement is techno history in the making." Dancing Astronaut
Awards And Accolades Received By The Festival And Producer Include:
Resident Advisor's "Festival of the Month" for May 2018 – 2010, 2008 and 2007
"The 16 Best Festivals of 2016" Magnetic Magazine 2017
"16 of Summer's Best Music Fests" Jetsetter Magazine 2016
"Summer 2016's 30 Must-See Music Festivals" Rolling Stone
#2 on Beatport's "15 Incredible Techno Festivals to Hit in 2015"
New York Times "50 Essential Summer Festivals"
"50 Must-See Music Festivals" Rolling Stone 2015
#6 on Magnetic Mag's list of "Most Life-changing EDM Festivals"
To learn more, visit http://www.movement.us
3-Day Weekend and Daily Passes for both GA and VIP are Now On Sale at www.movement.us 
Connect With Movement:
Related Content: