EVENTS
Event Preview: EDC Orlando November 9 & 10, 2018
EDC Orlando 2018 is Ready to Blow Minds
Get ready to party under the electric sky! EDC Orlando is returning for its seventh year at Tinker Field this November 9th and 10th for another round of dancing and dazzling visuals. EDC Orlando is one of the many off-shoots of the renown Electric Daisy Carnival festival presented by Insomniac. Though it's not as big as its flagship festival, EDC Las Vegas, EDC Orlando is just as grand and features the same impressive lineups and state-of-the-art production.
This festival, as with the other EDCs, is one that embodies the "PLUR" (Peace, Love, Unity, Respect) ethos that was curated by the original ravers. It claims to be fueled by positivity and inclusiveness and encourages festivalgoers to love themselves and their fellow attendees (referred to as "Headliners" because "You are the heart of EDC. YOU are the Headliner").
Lineup
The 2018 lineup has yet to be announced, but it's sure to be a killer one. EDC and Insomniac are known for bringing loads of remarkable, heavy-hitting talent. Last year's EDC Orlando featured performances from Zedd, Seven Lions, Diplo b2b A-Trak, and Galantis, among many other awe-inspiring artists.
Significant headliners will play on the kineticFIELD, which serves as EDC Orlando's main stage. Meanwhile, neonGARDEN features techno and house DJs and circuitGROUNDS hosts artists known for their "epic melodies." The Boombox Art Car, though not considered an official stage, will likely make a return this year with sets from emerging talent.
Check out last year's lineup to get a taste of what is likely to come this year!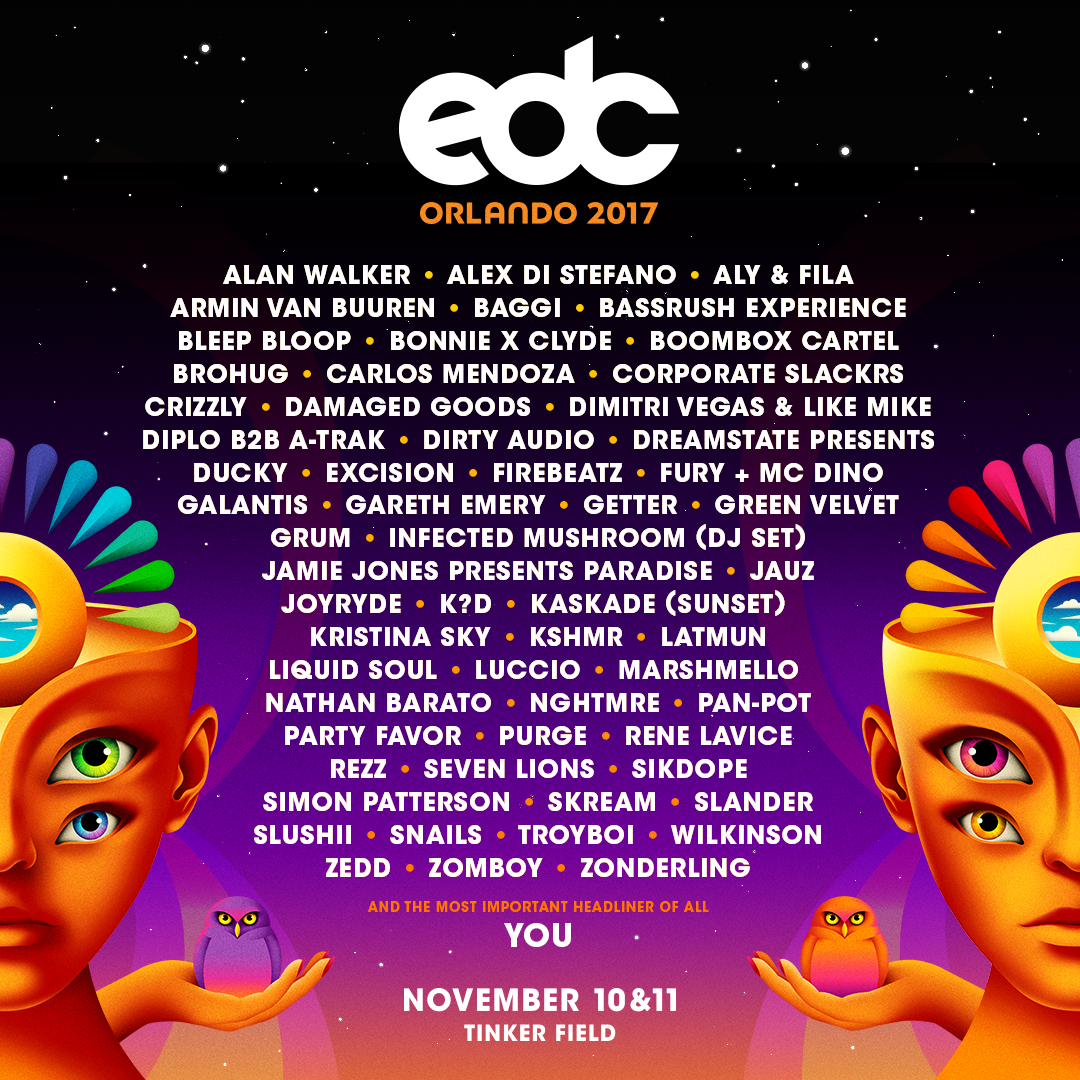 Activities & Features
EDC is nothing but an immersive visual experience. Walking into the festival will transport you into another realm where art comes to life and mixes with electronic music to create a unique world. The entire venue will be peppered with towering, colorful art installations, LED-infused environments, and a host of characters known as "Funkdafied Freaks".
Each stage at EDC Orlando "represents a distinct union of technology and nature". Although they are all impressive in their own right, the kineticFIELD is the crown jewel of EDC. With the multiple award-winning production director Jake Berry as Insomniac's resident consultant, EDC has brought unrivaled production value to its kineticFIELD stage, which features a signature structure that travels around the world for the EDC tour.
Last year's EDC tour saw Goddess Gaia towering over thousands of headliners. In between sets, the kineticFIELD comes alive with stunning displays that showcase top-notch production, pyrotechnics, and lighting. The visual shows kick off with a 5-minute opening ceremony that occurs after the sun sets. All of the following mainstage performances are then interspersed with shorter displays. A final "Kinetic Experience" concludes the night at the kineticFIELD after the closing artist's performance.
"Headliners" can also take a break from raging at the stages to enjoy many of the attractions at Carnival Square. Located in the heart of the festival, one can find a series of carnival games, a range of full-size rides, food stands, and a chill-out area complete with beanbag chairs. Free wifi, charging stations, and photo ops are also available.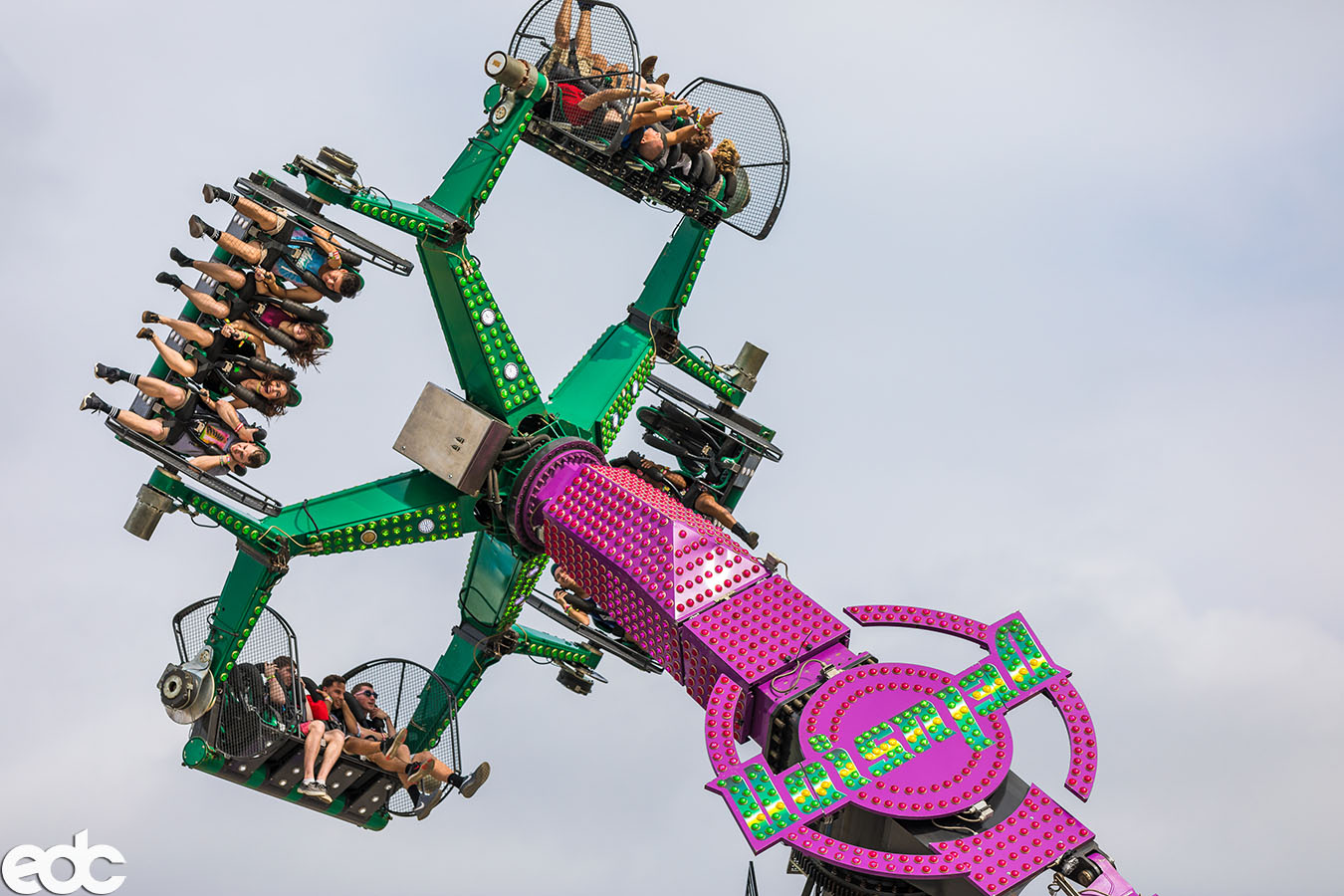 Ticket Information
General Admission
The first wave of tickets ("Early Owl") are $169 + fees and go on sale April 18th from noon to midnight only so don't sleep on buying your tickets! Tickets come in four additional tiers depending on when you purchase them; the earlier you buy, the cheaper they are.
Wise Owl (on sale 4/19):

$179 + fees

Later Owl:

$189 + fees

Sleep Owl:

$199 + fees

Day of Show:

$239 + fees

.
Dropping a couple hundred dollars at once can be daunting. So, EDC Orlando has included a layaway option. If you purchase your ticket on April 18th, you pay a $24.95 deposit due upon purchase and then five payments of $36.67 due on the 15th of every month. The deposit includes taxes, fees, shipping, and a $10 layaway charge. Prices for layaway tickets will adjust to reflect the current price tier.
GA tickets will be available for purchase here.
VIP Admission
VIP tickets will follow the same tiered system as GA tickets.
Early Owl (on sale on 4/18 from noon to midnight only):

$329 + fees

Wise Owl (on sale 4/19):

$359 + fees

Later Owl:

$389 + fees

Day of Show:

$428 + fees

.
There will be a layaway option for VIP tickets as well. If you purchase your ticket on April 18th, you pay a $34.95 deposit due upon purchase and then five payments of $69.92 due on the 15th of every month.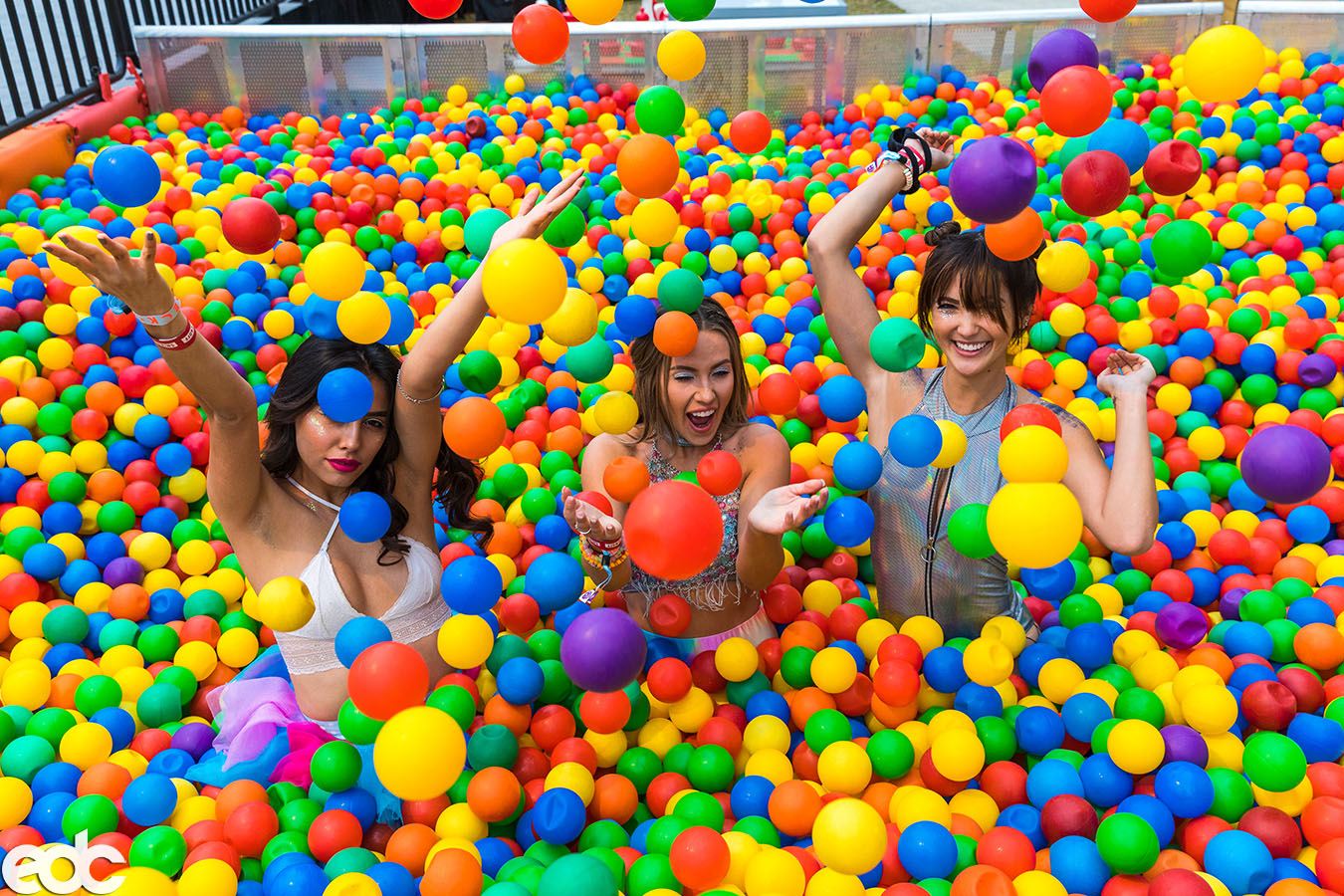 VIP packages may be expensive, but they're worth it if you're looking to have an extra comfortable and luxurious EDC experience. Features include:
Dedicated viewing decks, dance areas, and entrance

Exclusive water stations, a juice bar, seating area, cell phone charging area

Private bathrooms (to avoid all those nasty port-a-potties)

Bars, gourmet food, and signature EDC Orlando cocktails

Complimentary body paint, a beauty bar, Kandi bracelet making station, interactive games, a ball pit, and VIP photo ops

And more!
VIP tickets can be purchased here. Must be 21+ and provide valid photo ID.
SkyDeck
If you want to go beyond the VIP experience to one that is truly at the upper echelon of festival experiences, EDC Orlando offers several exclusive "SkyDeck" packages. With this package, you get the best views of kineticFIELD, private table service, guaranteed front row spots, and much more. Click here to find out more and to purchase a package.
Tickets for Charity
Every ticket transaction results in a $1 donation to charity. Recently, EDC Orlando has donated to Strengthen Orlando and Second Harvest Food Bank of Central Florida. So you can experience the festival of a lifetime and give to charity with no extra effort on your part!
Prepare for EDC Orlando 2018 by reading our review of last year's fest.
Connect With EDC Orlando
Website
Facebook
Twitter
Instagram
Check out EDC Orlando coverage and more related content here at OneEDM.