INTERVIEWS
ClockworkDJ Talks "Circles" and New Music Ahead of Tribute
Catching up with ClockworkDJ ahead of ceremonial tribute for Mac Miller
ClockworkDJ is a well-known producer in the hip-hop and rap scene for a while. From touring with artists such as Talib Kwali and Mac Miller 24/7, he's no stranger to the festival scene. Clock performed on Electric Forest's main stage this past summer.
A busy man by nature and trade, we quickly chatted with the man himself on the day of his brother Mac Miller's album, Circles, which got released on Friday, Jan. 17, 2020. He talks about his upcoming projects and presence in the electronic music scene.
Zach Vaccaro: Hey man, what's going on?
ClockworkDJ: Hey what's up man, this is Clock!
Not much how are you?
I'm doing good man, just getting ready to head to this gig so I got a few minutes to talk.
For sure! We appreciate you taking a minute here to talk with One EDM!
You already know!
Where you at tonight?
I'm in Pittsburgh, at this new club Cobra opening up.
Tomorrow you're coming to New York. You're gonna be in Brooklyn?
Yup! Tomorrow, we're at Brooklyn Bowl for that ceremonial party for my brother!
Yeah man, Circles is out today!
Yeah bro, I still have to listen to the whole album, I'm like 5 [songs] in. It takes me a minute to listen to albums if there's something I like or a certain lyric I might hear, I might listen to a song a few times you know. I didn't really get my full synopsis yet but I'm diggin into it, man. It's also kind of painful because I can't call him and be like "Yo, this is fire! This record is crazy!" so it's a little surreal.
It's beautiful what you've been doing with the tribute and I know you've been doing it a lot.
Yeah man, you know it's about keeping the legacy alive forever and being consistent. You know it's like this happened and this is my way of like you know…it's therapeutic for me. To laugh, to dance, to play his music, to play records that I remember when it was made.
I remember the vibe of the studio and who was in the studio when this was made. But it's also sad, I can't believe it. But it's like 50/50 forreal (positive). You know time heals all and, the more I continue to understand this is life and we all have our day one day and the better and I can celebrate and be free you know.
You're doing the right thing and it's admirable, man.
Well you know, man, it's just about trying new ways to keep his legacy alive. Let's dance, let's cry, let's have a good day, instead of crying ourselves to sleep over it every year. Let's celebrate it, let's make it be a celebration.
Absolutely, my man! So I just listened to a new track of yours out now, "HOTPOTATO", and I didn't know you did bass music. The song slaps and can we expect some more tunes like that from you coming up?
You like that (haha)! Low key, I was experimenting because you know Peter's (Peter Slayton is the agent for ClockworkDJ) always trying to get me to do different things and just coming off my debut at Electric Forest. I was coming off of that and feeling the vibe and just threw it out there as a freebie just to test the waters. I was kinda, well not even kinda, I was getting good feedback.
So yes, you can expect more of that in the future and more records that I produce featuring other artists and in the midst of that. I'm going to even throw in some of my own raps. So it's going to be me releasing a bunch of this music starting next month that I've been trying to get myself to release that Peter's been trying to get me to release, you know. Now I have the confidence and the "I don't give a f***" of what people think" type of attitude so I'm just gonna put it out now and people who like it, like it and people who don't…don't. It's different man, I gotta be an octopus out here.
So you know Holly, he's from Europe. He came to New York and we got in the studio and he told me about this game producers play, I guess called "hot potato". I'm on my computer and he has his computer and we make the beat in 10 minutes. We sent it to each other and remixed the beat. So that's what we did with that beat and it is called "HOTPOTATO". That was like just me collaborating with other artists and learning a new style of production. That was the outcome, and I want to continue to do that.
At this point in my career, I'm open to a challenge. So long in my career I've been put in the box as just a hip-hop DJ. I play so much other s*** than just hip-hop, you know, that's the whole thing. Why Peter got me on Electric Forest, "HOTPOTATO" you know, so I'm remixing some turn styles right now. I'm coming out of my cocoon right now, turning into a butterfly, so f*** with me!
Word! Definitely. Well my man my man thank you, have a good night. Thanks for your time to talk with us here at One EDM and hopefully we will talk to you soon!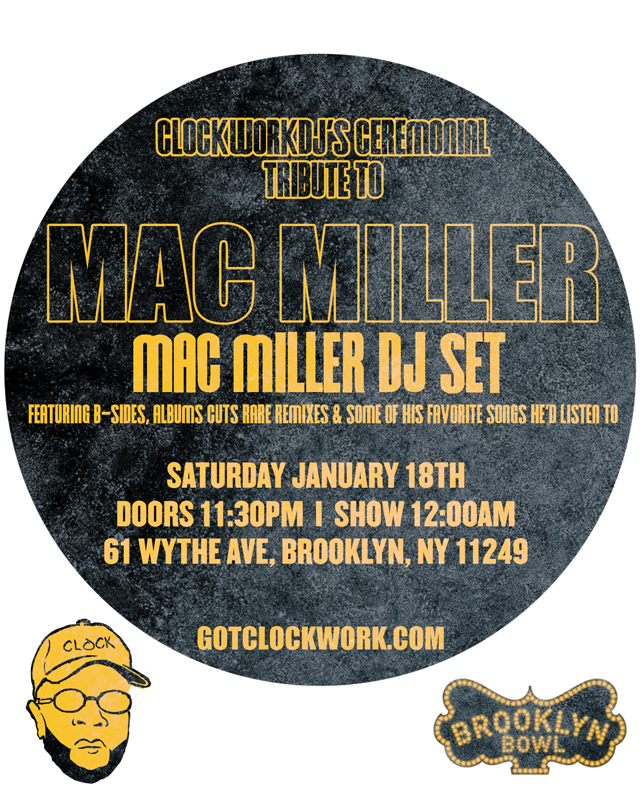 ClockworkDJ's ceremonial tribute to Mac Miller
ClockworkDJ and the MostDope family will be at Brooklyn Bowl on Saturday, Jan. 18, 2020, to celebrate the legacy of the late Mac Miller. Some B-sides, album cuts and some of Mac's favorites, among others, will be played. Who knows, maybe you will hear some unreleased ClockworkDJ experiments.
Come ride out the storm and dance to stay warm with ClockworkDJ for this 4-hour tribute. Tickets are available online or at the door. If you feel like staying in, be sure to check out HOTPOTATO and Mac Miller's Circles, out now.