$1.8 Billion in market share Lost In One Day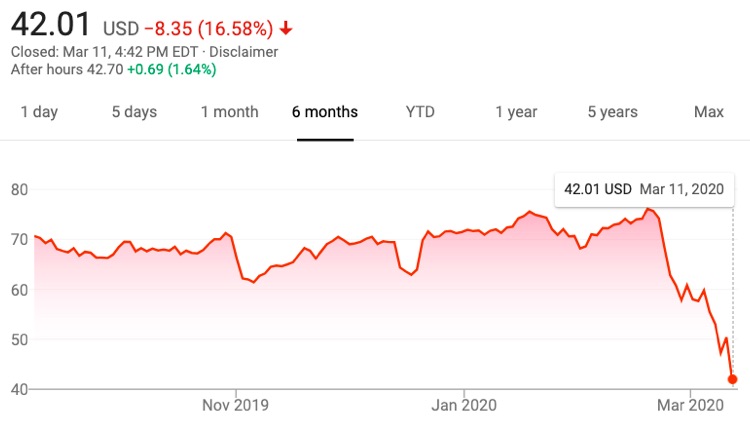 Shares of Live Nation (LYV) took a nosedive on Wednesday as global coronavirus fears cripple concert touring and attendance.
Just ten days ago, Live Nation CEO Michael Rapino was downplaying coronavirus concerns, while pointing to a temporary disruption. He stated the following:
Most of our business doesn't start until the middle of June onwards. So the next few months, we'll have some cancellations, I assume, here and there in some arenas and clubs, but the heart of our business happens this summer.
Investors' concerns
Wall Street investors are less convinced of that breezy assessment. Earlier this week, we reported on a major slide in shares of Live Nation (LYV). Today, that slide became an avalanche, with shares dropping an additional 16.5% amidst rising concert cancellations and coronavirus pandemic concerns. Doing the math, the one-day plunge on Wednesday amounted to roughly $1.8 billion in stock market valuation.
Even more shocking: LYV shares have tanked roughly 43.3% over the past month, to $42.01 at the closing bell Wednesday. Measured against a recent high of $76.60, that plunge surpasses 45%. Effectively, this drop wiped out nearly half the companies market cap in just a few weeks.
On March 10th, Live Nation's measured a market cap at approximately $10.8 billion, a figure that plunged to $9.01 billion.
Coronavirus concerns
On the broader global picture, the World Health Organization (WHO) has labeled the coronavirus outbreak as a 'pandemic.' This seems to have caused widespread panic throughout the world.
WHO Director-General Tedros Adhanom Ghebreyesus stated the following:
This is the first pandemic caused by coronavirus. We have called every day for countries to take urgent and aggressive action. We have rung the alarm bell loud and clear.
In the United States, coronavirus diagnosed cases tipped 1,000 for the first time. The Trump Administration's response has been sluggish and disorganized. Other countries have been equally unable to coordinate effective responses. Ghebreyesus stated that WHO is deeply concerned, both by the alarming levels of spread and severity. The WHO is also concerned about the alarming levels of inaction in various countries.
Recent concert cancellations
Due to Coronavirus concerns, many large events worldwide are canceled, or postponed. These include several concerts and festivals. Recently both Ultra Music Festival and Coachella canceled or postponed their events. Many other festivals and events followed suit.
The drop in the stock price closely follows the postponement of both Coachella and Stagecoach, which are run by rival concert giant AEG.